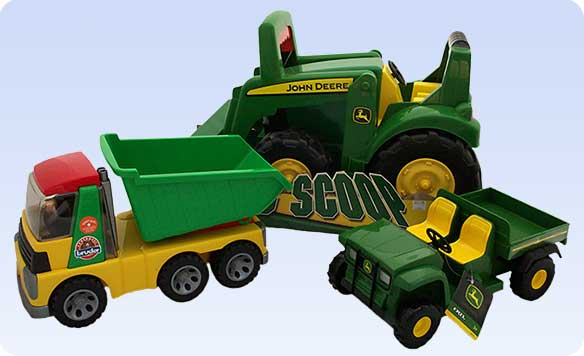 Just a few of the many fun toy vehicles you can find at Toys Ahoy!
From the small die cast Hot Wheels and Matchbox by Mattel to the "green" vehicles from Sprig made from recycled materials we have something for everyone. John Deere kids construction and farm collection, Bruder in all sizes starting with age 1½.
Bruder Toys

German made trucks and vehicles for ages 2 & up. (Just like the real thing.)

Hot Wheels

Broad assortment of die cast vehicles and play sets.

John Deere Kids

Farm and construction themed vehicles and toys for kids of all ages.


Match box

Die cast vehicles and play sets.



Sprig Toys Eco-friendly!

Sprigwood is a bio-composite plastic made from bits of recycled plastic and reclaimed wood. Toys are kid powered, battery free head lights, and paint free.