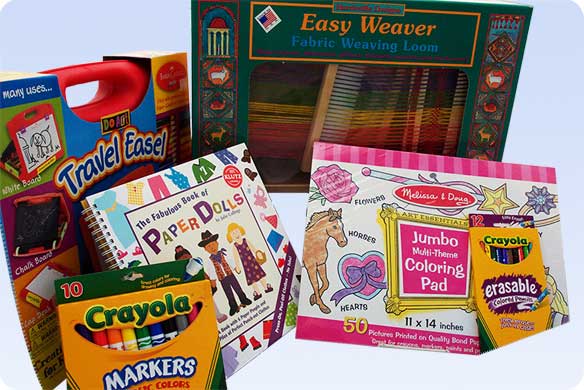 These are just a few of the art supplies and crafts you can find at Toys Ahoy!
Sculpy clay for school projects. Art supplies for the newest artist in your family. Finger paints to sidewalk chalk. All inclusive craft kits for all ages. Weaving looms from Harrisville Designs, Klutz books, Creativity for Kids craft kits, Crayola products, Faber-Castell and Melissa & Doug.
Creativity for Kids

Best selling series of creative craft kits. Contains everything needed to complete each craft.

Crayola

Top quality line of "made for children" art supplies.

Harrisville Designs

New Hampshire manufacturer of educational toys for children. Features a variety of knitting & weaving sets.

Klutz

Award winning activity books that combine clear instructions with everything you need to give kids a hands-on learning experience from Arts & Crafts to Knot Tying.

Melissa & Doug

Just add imagination. Decorate your own craft kits, stamp sets, premium paper and brushes, crayons and finger paints.