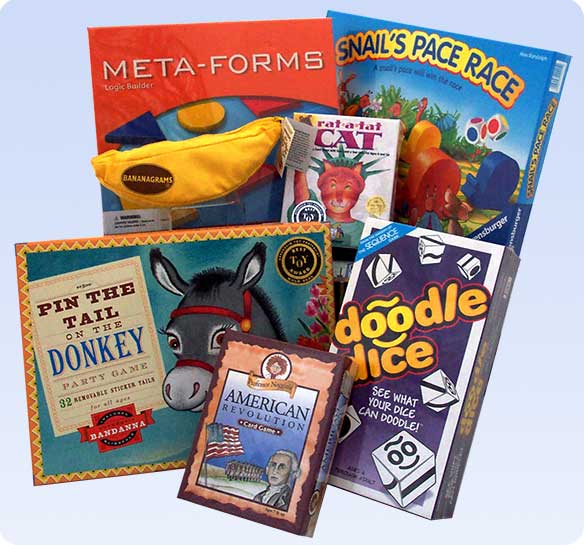 This is a small sample of the games and puzzles you can find at Toys Ahoy!
Traditional family games for all ages. Educational to just plain silly. Banagrams, Find It, Prof. Noggins, Rat-A-Tat Cat and Slamwich. Brain Teasers like Rubik's Cube and Tangoes. Handsome Backgammon and Chess sets. Jigsaw puzzles for all ages & skill levels–Melissa & Doug, Ravensburger and White Mountain.
Bananagrams

Award winning anagram game that will drive you bananas!, Fast and Fun!

Find it

A series of Game Puzzles that challenge you to hunt for hidden objects buried with in a layer of recycled plastic pellets. Find the hidden penny. Good for all ages, alone or with friends.

Professor Noggins

Series of fun educational card games. Nature, science, history, and geography topics featured.

Rubik's Cube

2,3 and 4 row cubes. Rubik's Twist for something a little bit different. Very popular with our high school customers.

Ravensburger

Puzzles from 24 pieces to 1000 pieces. Also quality, fun games for the younger set.

Melissa & Doug

Beginning with simple wooden puzzles to the increased complexity of a 500 or 1000 piece cardboard jigsaw puzzle. Textured infant wooden puzzles, sound puzzles, and jumbo floor puzzles.

White Mountain

550 Piece and 1000 piece Jigsaw Puzzles focusing on Historical and nautical topics. White Mountain Puzzles are fun & educational.